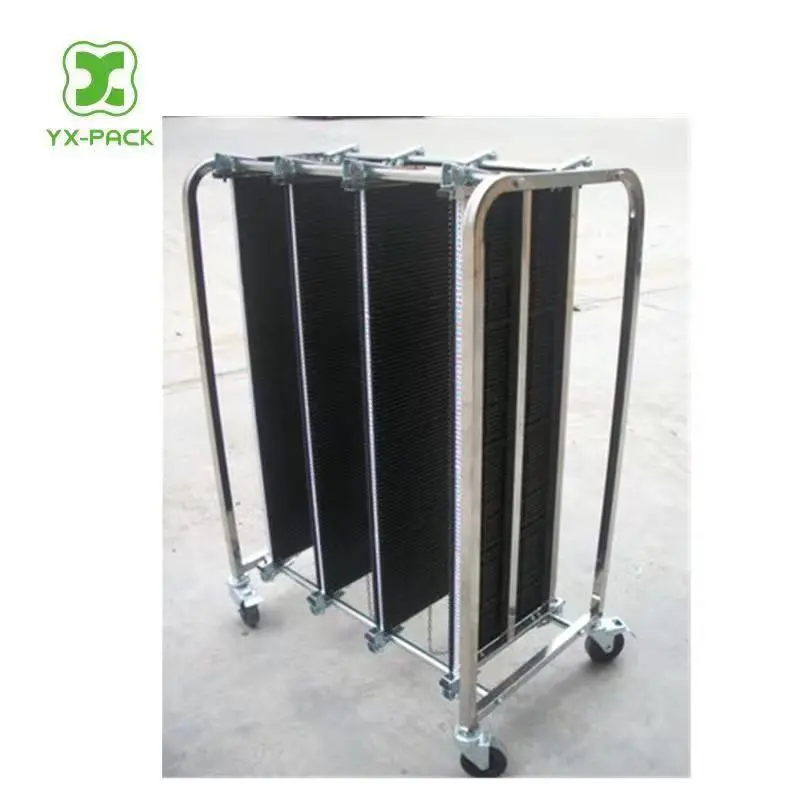 Anti-static trolley is used for manual access to light goods, and can store multi-variety of small parts with plastic turnover boxes, widely used in electronics industry and small parts warehouses, can be used in warehouses, archives, offices, shops, etc., can be changed Spray powder or laying special rubber sheets to achieve anti-static function, low cost, safe and reliable, assembly, disassembly, simple, anti-static shelf can be used alone, or freely splicing into a variety of arrangements.
Layer material has carbon steel chrome mesh, stainless steel mesh, stainless steel plate; single layer maximum load 200kg; pillar: height optional, diameter 25.4mm, optional U-shaped armrest or column; option: ground chain (strengthening anti-static) Effect); side net (preventing object slipping); clip: ABS plastic clip; each layer of net is used to use a pair of metal clamps, so that the anti-static conduction system is more perfect, * surface resistance: 105-108Ω, customizable Arbitrary long. Wide. High size and layer; the layer height can be adjusted, the mesh standard specification is 1800mm, the width is 600mm, and the standard flat network can be selected.
Professional quality, meet your highest requirements - flat smooth, easy to maintain, all angles are clearly visible to wire network, no "memory effect" on heavy objects, will not deform earthquake, anti-scratch, no rust It is not easy to be acidified and most of the acid, alkali erosion can be increased in demand, suitable for room separation and display of various temptural items to connect the shelves and set shelves to connect the shelves and shelves to effectively utilize space. Each supporting shelf and optional shelf accessories have 2 s hooks. S-hook usage, the maximum load of the shelf is reduced to 100kg. No tools can also be built. Just take a rubber hammer that protects the screw. Can be moved by a brake or without a brake. With a casket.
The maximum load in the parameter is melted into the uniform distribution of goods. Increasing the supporting shelf must be within the maximum load of the support and the maximum load range of the universal case. The upper and lower height of the line mellate is 25mm per gear, manufactured by 4.7mm thick steel wire (maximum load 150kg) or 62mm thick wire mesh (maximum load 200kg), three layers of nickel plated, chromium-plated surface. Shelf column, a diameter of 25mm 2, and it is easy to connect with a screw. Three layers of nickel plated and chrome plated. The nut and the highly adjustment screw that can be compensated for high and 20mm uneven ground. The columns between 2 shelves can be connected by a column connector. Two shelf spacing 15mm.